Choosing a present for mother's day is tricky. It's a biggie. Mums do so much and I always struggle to find the right gift that says a big enough 'thank you'. So when this week I was invited to Ella Di Rocco Wellness Medispa on the Fulham Road in Chelsea to experience their brand new interior-designed spa and one of their unique treatments, I thought that this would be a perfect indulgent treat to give as a special mother's day gift.
Having first heard about the creative ideas for Ella Di Rocco's interior, designed by Matteo Bianchi Studio, from Studio Director Simon Hamilton (who I've interviewed here previously), I was keen to visit. The brief for the project was "to realise the client's dream and design a beautiful and serene environment for London's first Wellness MediSpa". I was interested to see the element of well-being woven into a great design, and how a well-designed space contributed to the way we feel and experience it, which is what I'm always aiming for in my own work as well.
Another reason this is a perfect Mother's day post, is because Ella Di Rocco is a mother and daughter business, set up by Dr Anna Brilli and her daughter, Sonia Milena Brilli. Anna, an implantologist, maxillofacial surgeon, and accomplished business woman, combined her skills with Sonia's passion and insights around the latest beauty trends and customer needs to realise her lifetime dream of opening the medispa. Anna and Sonia want to revolutionise the concept of 'beauty from within' in a non-invasive way with their unique treatments.
Many of the treatments offered at the spa are exclusive to Ella Di Rocco. I was particularly interested in the wine spa treatments.
Being submerged in wine, whilst enjoying a glass of Sangiovese at the same time? It sounded like my idea of heaven!
When I asked Sonia about the concept, she explained that in Rome, where she was born and raised, it was a common thing to do, she'd visit wine therapy spas with her mum regularly and they'd enjoy the de-stressing and revitalising effects of the treatment. Red wine is also rich in antioxidants which is great for the skin.
After relocating to London, Sonia couldn't find anything similar, and that's how the Ella Di Rocco seed was planted. As with most businesses, the planning took many years, and the spa was finally opened in February 2018. Apart from the wine bath, which is 40% Sangiovese, as well as virgin grape juice, grape seed oil and hot water, the other wine treatments include a Merlot De-Stressing and Rejuvenating Face Scrub & Mask, (which is what I enjoyed under the magical hands of experienced therapist, Irina) Detox Wraps and Face & Body Massages. Wine Therapy Products are naturally made from wine, grape leaves and grape seeds.
With its unusual reception, well-designed treatment rooms and luxurious spa, all by Matteo Bianchi Studio, it certainly is a beautiful space to relax in. The spa is clad in deep green polished concrete with custom-made textured tiles and tactile brassware, it has two adjacent baths, so you can enjoy your special wine bath experience an a chat with your mum, friend or partner.
I love the way different greens, circular shapes and curves are carried through the entire interior. Green is of course the colour of life, renewal and energy, perfect for this type of setting, and I really enjoyed the way the designers have paired it with brass and bold black and white geometrics in places to give it a modern edge.
"There are bespoke fittings and features throughout, which were developed with the client for their specific purpose very much in mind. Even the bold black and white patterned wallpaper is unique to Ella Di Rocco. Once at the Lower Level, you enter the private spa decorated with deep green walls, specially commissioned black and white floor tiles, treatment beds and relaxing dimmed lighting." Matteo Bianchi
Ella Di Rocco is so much more than just a spa though, they offer many exclusive technologically advanced treatments that not available anywhere else in England. They are focussed on well-being and re-newing the body from the within, as well as cutting edge beauty treatments. DNA and heavy metals testing before and after treatments provide data showing real results.
The osteopathy treatment room holds state-of-the art machines that treat serious conditions and pain, and the resident osteopath, Miad, is currently the only UK based osteopath who is formally trained to use the CMF SportSys, and works in collaboration with London hospitals to find new ways to treat patients pre and post surgery, with Fibromyalgia or severe back pain using complex magnetic field technology.
There are 3 private treatment rooms with calming colours, soft towels and all-important dimmable lighting. A former retail unit, the project took 12 months from discovery to completion, and it was highly technical from the outset, incorporating advanced technology including equipment directly from Nasa.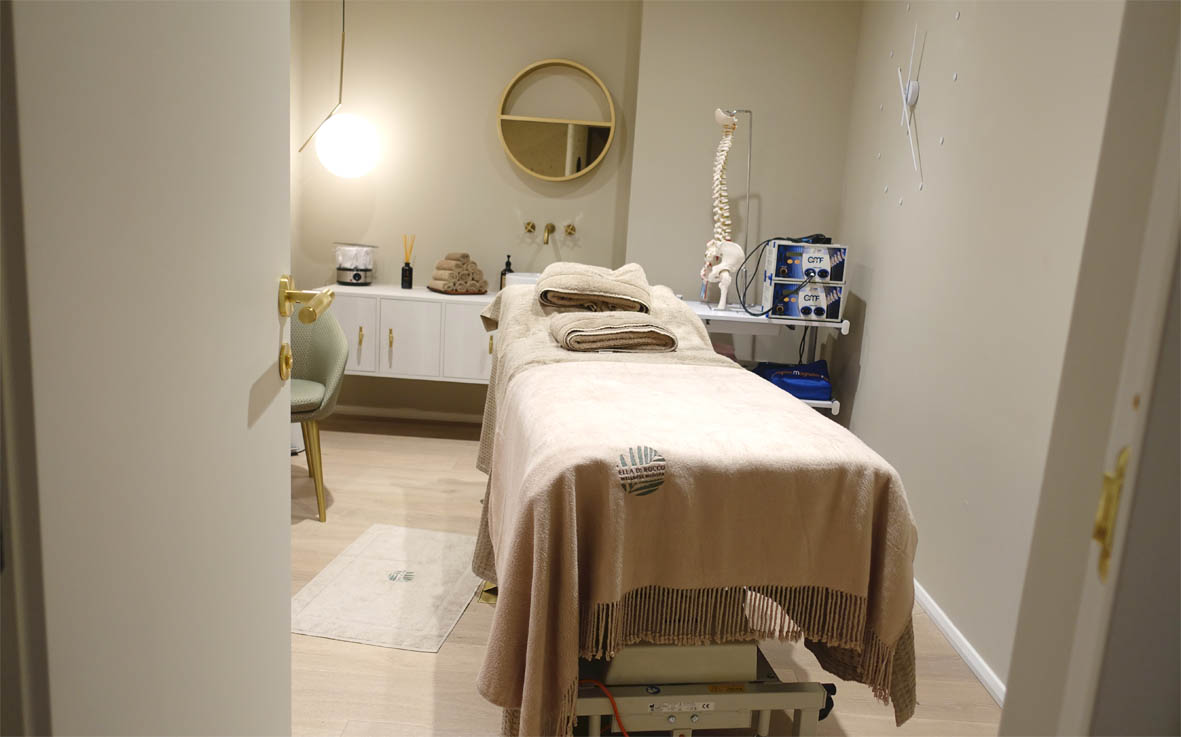 The three private treatment rooms
Ella Di Rocco kindly gifted me a complimentary treatment.
To book a treatment or find out more, you can contact the spa here.
Image credits:
2 & 6 supplied by Ella Di Rocca
All others: tashsouth.com